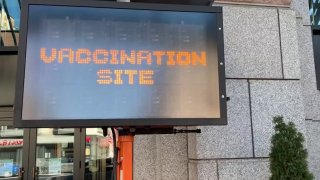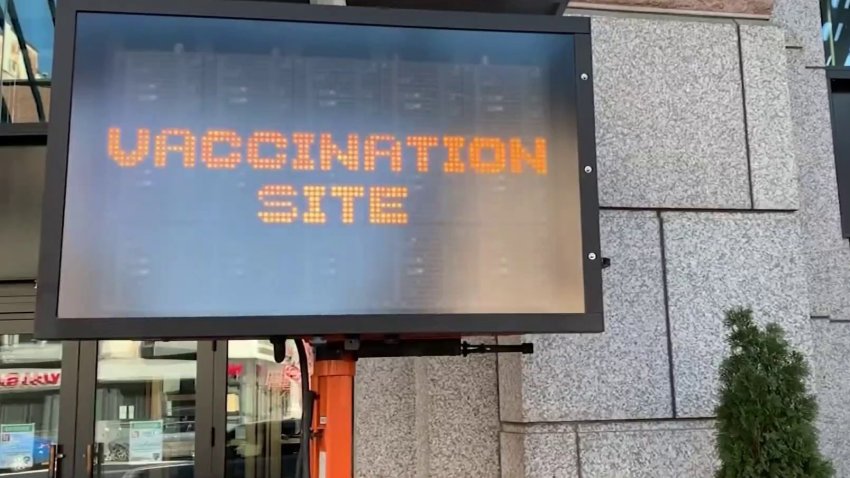 Un día antes de la apertura del próximo grupo elegible para recibir la vacuna COVID-19, los residentes de Connecticut que tengan 16 años o más ahora pueden crear una cuenta en el Sistema de gestión de administración de vacunas (VAMS).
A partir del miércoles por la mañana, el sitio de VAMS ahora incluye una opción para que los mayores de 16 años creen una cuenta.
El registro es el primer paso en el proceso de programar una cita de vacunación.
Según el sitio web , quienes se registran con una nueva cuenta, pero aún no son elegibles, se les enviará un correo electrónico cuando sean elegibles. Eso sucederá el jueves para el nuevo grupo de elegibilidad.
Nuevas ubicaciones de farmacias como parte del programa de vacunación de Connecticut
El estado también anunció más de 100 farmacias adicionales que comenzarán a ofrecer la vacuna COVID-19.
Able Care Pharmacy & Med Supply: 15 Palomba Drive, Enfield
Achorn Pharmacy: 289 Post Road East, Westport
Apex Pharmacy & Home Care Center: 2380 Dixwell Avenue, Hamden
Arrow Prescription Center: 263 Farmington Avenue, Farmington
Arrow Prescription Center: 500 Farmington Avenue, Hartford
Beacon Prescriptions: 233 Main Street, New Britain
Beacon Prescriptions: 25 Collins Road, Bristol
Beacon Prescriptions: 543 West Main Street, New Britain
Beacon Prescriptions: 609 North Main Street, Southington
Big Y Pharmacy: 1289 Foxon Road, North Branford
Big Y Pharmacy: 135 West Road, Ellington
Big Y Pharmacy: 224 Salem Turnpike, Norwich
Big Y Pharmacy: 33 Fieldstone Commons, Tolland
Big Y Pharmacy: 355 Hawley Lane, Stratford
Big Y Pharmacy: 504 Winsted Road, Torrington
Big Y Pharmacy: 7 E Hampton Road, Marlborough
Big Y Pharmacy: 70 Wauregan Road, Danielson
Big Y Pharmacy: 81 Stony Hill Road, Bethel
Big Y Pharmacy: 85 Bridge Street, Naugatuck
Big Y Pharmacy: 87 W Stafford Springs Plaza, Stafford Springs
Big Y Pharmacy: 995 Poquonnock Road, Groton
Bissell Health Mart Pharmacy: 23 Governor Street, Ridgefield
Brass City Pharmacy: 558 Chase Avenue, Waterbury
Brass Mill Pharmacy: 1405 East Main Street Unit 3, Waterbury
Bridgeport Pharmacy: 978 East Main Street, Bridgeport
Candlewood Drugs: 11 State Route 37, New Fairfield
Community Health Pharmacy: 210 Dixwell Avenue, New Haven
Danielson Pharmacy: 77 Westcott Road, Danielson
Della Pietra Pharmacy: 792 Highland Avenue, Waterbury
Evine Llc-Valuerx Pharmacy: 54 Tuttle Place, Middletown
Grieb's Pharmacy: 1021 Post Road, Darien
Hancock Pharmacy: 1020 Fairfield Avenue, Bridgeport
Hancock Pharmacy: 306 Grand Avenue, New Haven
Hancock Pharmacy: 840 East Main Street, Meriden
Hancock Pharmacy: 95 Wakelee Avenue, Ansonia
Health Complex Pharmacy: 55 Deforest Street, Watertown
Higganum Pharmacy: 23 Killingworth Road, Higganum
Main Street Pharmacy: 2117 Boston Avenue, Bridgeport
McQuade's Pharmacy: 10 Clara Drive, Mystic
Medical Pharmacy: 1213 Main Street, Willimantic
Milford Pharmacy and Home Care: 78 Broad Street, Milford
Naugatuck Pharmacy: 153 Maple Street, Naugatuck
New Britain Pharmacy: 46 Broad Street, New Britain
New Canaan Pharmacy: 44 East Avenue, New Canaan
Norwalk Pharmacy: 250 Westport Avenue, Norwalk
Nutmeg Pharmacy Centerbrook: 33 Main Street, Centerbrook
Nutmeg Pharmacy: 38 Williams F Palmer Road, Moodus
Oxford Pharmacy: 100 Oxford Road, Oxford
Petricones Torrington Pharmacy: 110 East Main Street, Torrington
Pharmscript Holdco & Subsidiaries: 80 Clark Drive, East Berlin
Price Chopper Pharmacy: 121 Farmington Avenue, Bristol
Price Chopper Pharmacy: 251 Kennedy Drive Suite A, Putnam
Price Chopper Pharmacy: 675 Poquonock Avenue, Windsor
Price Chopper Pharmacy: 855 Washington Street, Middletown
Procare: 1492 Highland Avenue Suite 1C, Cheshire
Rite Aid: 1030 Wolcott Street, Waterbury
Rite Aid: 1060 East Main Street, Bridgeport
Rite Aid: 1395 Middletown Avenue, Northford
Rite Aid: 141 Meriden Road, Waterbury
Rite Aid: 1619 Post Road, Fairfield
Rite Aid: 180 Main Street, Cheshire
Rite Aid: 190 East Avenue, Norwalk
Rite Aid: 215 Federal Road, Brookfield
Rite Aid: 2175 Dixwell Avenue, Hamden
Rite Aid: 249 Legion Avenue, New Haven
Rite Aid: 277 Fairfield Avenue, Waterbury
Rite Aid: 280 Branford Road, North Branford
Rite Aid: 289 Greenwood Avenue, Bethel
Rite Aid: 325 Ferry Street, New Haven
Rite Aid: 508 Monroe Turnpike, Monroe
Rite Aid: 56 Rubber Avenue, Naugatuck
Rite Aid: 588 Main Street, East Haven
Rite Aid: 605 North Colony Road, Wallingford
Rite Aid: 645 Foxon Road, East Haven
Rite Aid: 744 Wolcott Road, Wolcott
Rite Aid: 85 Middletown Avenue, North Haven
Rite Aid: 922 South Main Street, Cheshire
Rockville Pharmacy: 42 Windsor Avenue, Vernon
Rotary Drug: 1030 Barnum Avenue, Stratford
Seybridge Pharmacy Jewelry & Gifts: 37 New Haven Road, Seymour
Shop Rite: 1990 West Main Street, Stamford
Shop Rite: 200 Shippan Avenue, Stamford
Shop Rite: 2100 Dixwell Avenue, Hamden
Shop Rite: 214 Spencer Street, Manchester
Shop Rite: 250 Barnum Avenue Cutoff, Stratford
Shop Rite: 259 Bull Hill Lane, Orange
Shop Rite: 266 East Main Street, Clinton
Shop Rite: 35 Talcottville Road, Vernon
Shop Rite: 360 Connecticut Avenue, Norwalk
Shop Rite: 45 Shunpike Road, Cromwell
Shop Rite: 745 Foxon Road, East Haven
Shop Rite: 775 Main Street South, Southbury
Shop Rite: 875 Bridgeport Avenue, Shelton
Shop Rite: 935 Boston Post Road, Milford
Slavins Hancock Pharmacy: 922 Washington Boulevard, Stamford
Stolls Pharmacy: 185 Grove Street, Waterbury
The Medicine Shoppe Pharmacy: 535 Boston Post Road, Old Saybrook
The Medicine Shoppe Pharmacy: 774 Farmington Avenue, West Hartford
The Medicine Shoppe: 79 East Street, Vernon Rockville
The Rose City Pharmacy: 3 N 2nd Avenue, Taftville
Visels Pharmacy: 714 Dixwell Avenue, New Haven
Wallingford (Berlin): 8 Fairfield Boulevard, Wallingford
Westown Pharmacy: 455 Hartford Road, Manchester
Woodbury Drug: 682 Main Street South, Woodbury
CVS , Walgreens y Stop & Shop abrirán sus portales de vacunación al nuevo grupo de elegibilidad a la medianoche.
Los residentes mayores de 16 años también podrán registrarse a través de Hartford Healthcare , Yale New Haven Health , Trinity Health of New England , UCONN Health , Middlesex Health y Stamford Health .